Welcome to Denham Springs Antique Village! If you are a vintage lover or an antique enthusiast, this charming village in Louisiana is the perfect destination. The village boasts a unique collection of shops that offer everything from rare collectibles to one-of-a-kind treasures. With its rich history and vibrant community, Denham Springs Antique Village is more than just a shopping spot; it's an experience that will transport you back in time. So buckle up and prepare for an adventure through this quaint and delightful place!
What is Denham Springs Antique Village?
Denham Springs Antique Village is a picturesque shopping district in the heart of Denham Springs, Louisiana. The village is home to over 25 unique shops specializing in antiques, vintage collectibles, and handmade crafts.

Walking through the streets of this charming village feels like stepping back in time. Every corner exudes old-world charm and character, from historic buildings to cobblestone streets.

Visitors can spend hours browsing through antique stores filled with rare books, vintage clothing, unique jewelry pieces, and other fascinating finds from different eras. There are also several art galleries where visitors can admire local artwork or shop for souvenirs.

Aside from shopping opportunities galore, Antique Village hosts many events throughout the year, such as street festivals and holiday celebrations that add to its festive atmosphere. Visitors can enjoy live music performances while savoring delicious food offered by local vendors.

Antique Village offers an experience unlike any other – a journey through time surrounded by beautiful architecture while discovering exceptional treasures!
The History of Denham Springs Antique Village
Denham Springs Antique Village is a historic district in the heart of Denham Springs, Louisiana. The village was established in 2002 and has since become a popular destination for antique enthusiasts from all over the country.

The history of Antique Village dates back to the early 1900s when Denham Springs was a bustling lumber town. Many of the buildings that now house antique shops were originally constructed as mercantile stores, banks, and offices for local businesses.

Over time, these buildings fell into disrepair and were eventually abandoned. In the late 1990s, a group of local business owners came together to revitalize this historic area and turn it into a thriving shopping destination.

They restored many of these old buildings to their former glory through hard work and dedication. Today, visitors can stroll down Main Street and step back in time as they peruse an impressive collection of antiques ranging from furniture to glassware.

Denham Springs Antique Village is a testament to its rich history and bright future as one of Louisiana's premier shopping destinations for antique aficionados.
The Many Different Types of Antique Shops
Denham Springs Antique Village boasts a variety of shops, each with its own unique charm and offerings. Visitors can find items that suit their style or interests, from vintage clothing to rare collectibles.

One popular shop is The Rusty Rooster, specializes in shabby chic decor and handmade crafts. Visitors can purchase one-of-a-kind pieces for their homes or even take classes on creating their DIY projects.

Another must-see shop is the Old City Market Antiques store. Here, antique enthusiasts can browse through various furniture pieces from different eras alongside other curiosities such as old books and records.

For those who love all things nostalgic, Timeless Treasures Vintage offers a broad selection of retro toys, clothing accessories, and vinyl records from various decades that will transport you back in time.

Additionally, the Louisiana Purchase Trading Post & Galleries features beautiful artworks by local artisans, including paintings, sculptures, and pottery. They also have a vast collection of antiques worldwide, ranging from home furnishings to jewelry.

Antique Village has something for everyone – quirky knick-knacks or elegant period pieces!
Events held in Antique Village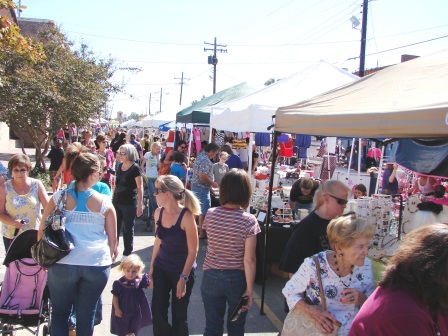 Denham Springs Antique Village is not only a shopping destination but also a place where visitors can enjoy various events throughout the year. From annual festivals to holiday celebrations, there are always exciting things happening in the village.

One of the most popular events held in Antique Village is their Fall Festival. This festival features live music, food vendors, and many antiques for shoppers. The event typically occurs in October and draws crowds from all over the area.

Another highly anticipated event is their Christmas Open House. During this special occasion, each shop decorates for the holidays and offers unique gifts that make perfect presents for loved ones on your list. Visitors can sip hot cocoa while listening to carolers and enjoying festive treats.

Throughout the year, different shops will hold trunk shows or pop-up shops featuring local artisans or specialty items like vintage clothing or handmade jewelry. These smaller-scale events provide an opportunity for visitors to see new merchandise offerings while supporting small businesses at the same time.

No matter what time of year you visit Antique Village, chances are something fun will happen!
How to get to Denham Springs Antique Village
Denham Springs Antique Village is a must-visit for anyone who loves antiques and history. With its unique mix of shops, events, and fascinating history, it's no wonder why people from all over the country flock to this charming village.

You can take I-12 East or West to get to Antique Village, depending on your location. Exit 10 towards LA-3002 S/Range Ave, then turn left onto Range Avenue. Continue for about a mile until you reach N Range Ave., where you will see signs leading to the historic downtown area.

Once you arrive at Antique Village, be prepared to spend hours browsing through the various antique stores and enjoying all that this quaint town offers. Whether you're looking for vintage clothing items or unique home decor pieces, there's something here for every taste.

Denham Springs Antique Village is an excellent destination for antique enthusiasts looking for a charming experience with impressive historical significance. It's worth taking time out of your busy schedule to visit this place!